Anayennisi Aromatics - Aromatherapy Essential oils Guide
---
How to make homemade soap.
Homemade Soap Recipes from Anayennisi Aromatics.
How to make Soap ...... simply :) using easy recipes.
How to make homemade soap ?
You can find the links explaining how to make all of the essential oil homemade soap recipes at the bottom of this page, there are many to choose from, follow the simple soapmaking instructions for each individual homemade soap.
Sponsored Links
Using Simple Homemade Soap Recipes with Essential Oils and Herbs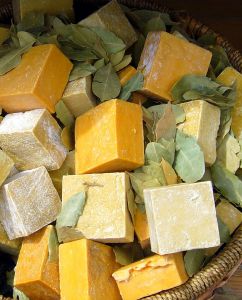 How to make homemade soap. 

Organic and natural,handmade soap recipes - using only olive oil as the base oil in the soap.....just click on your favourite soap recipe at the bottom of this page .....
Homemade soap....with just one base oil, pure and simple.
To use soap that has been made by your own fair hand is akin to eating vegetables that you have just pulled from your veggie patch........LUSH !!
A truly fabulous feeling !!
To make your own homemade soap is an equally satisfying and creative process - incorporating essential oils and herbs of your own choosing thus enabling you to combine fantastic blends that work for you, is a true voyage of discovery.
How to make homemade soap?
The individual homemade soap recipes that are listed below are tried and tested many times over.
These unique homemade soap recipes produce between 8 - 12 bars of soap, larger quantities are not required as I prefer to make a varied selection of different soaps for just friends and family - I do not make soaps commercially, although the idea has been tempting !!
Each "how to make homemade soap recipe ", has soapmaking instructions that are deliberately brief and succint - other pages on the website go into much more detail regarding the uses of essential oils, interesting facts and historical usage of the many herbs and the use of lye.
The " how to make homemade soap" method outlined with each recipe should be followed exactly to produce great results - the "cold process soapmaking method" is sometimes portrayed as difficult - it's not - if you can cook a simple meal you can make homemade soap ! It is simply....... easy !
Although care must be taken with the lye - just as you would take care with a hot stove !
Please note the cautions and safety data regarding the use of lye and essential oils.
I prefer to use only olive oil for making my homemade soap, as it is what is on my doorstep and readily available ( I live on a Greek island ) hence all of my recipes are a homemade lye soap, using a basic pure olive oil soap recipe, with added herbs and essential oils.
I use the blends that I have used ( I am a qualified Aromatherapist) for over 20 years, that I know work well together.
Nowadays, I don't tend to measure the temperatures of the oil and lye, I just gently heat the oil , over a really low heat for a couple of minutes, having mixed my lye and water first and letting it cool for about 5 minutes before I start warming the oil.
After warming the oil I add the dissolved lye and water mix, very slowly and carefully into the oil and then zizz with my stick blender until trace is reached, I then add any oils and herbs, zizz again for a moment with the stick blender and pour into molds.
As you become more adept and confident in making your homemade soaps, I am sure that you will dispense with the thermometers too but I feel if you are just starting out then its nice to have the reassurance that the measuring of temperatures can give you.
It really is your choice, whatever, it remains a very simple process to master -be warned soapmaking can become addictive !
Feel free to make, create, discover and be inspired, take your own aromatic odyssey !
Above all have fun and enjoy making homemade soap!!
Sponsored Links
Anayennisi Aromatics Soap Recipes
Anayennisi Aromatics Soap Recipes
Easy to follow - Step by step instructions on how to make homemade soap

How to make homemade soap.




Neroli and Rose Soap, an incredible fragrance which will not fail to make you smile, breathe in deeply and experience the aromas of Summer - the sunny fragrance of oranges and roses. A great combination to raise your spirits, to relieve anxiety, insomnia and banish the blues ! To relax and soothe with its sedative, emmenagogue and anti-inflammatory properties - particularly useful for those that suffer with PMT !  


Natural Homemade Hand and Body Liquid Soap - Liquid soap recipes using Anayennisi Aromatics natural soap base - from the original olive oil soap recipe :)


Go to the Frankincense, Myrrh and Rose Soap page - a fantastic soap for any woman at any age, pure bliss, pampering and luxury, we are so worth it !




Go to Lavender and Basil soap - a really nourishing soap,antibacterial and antiseptic,great for skin with Eczema or Psoriasis.


Go to Geranium, Patchouli and Orange Essential Oil Soap - uplifting and soothing, especially for dry skin, psoriasis,eczema or skin with dermatitis.


Go to Bergamot and Ylang-ylang Soap - a calming, soothing soap, great for de-stressing after a busy day !.




Go to Geranium and Tea Tree Oil Soap - Antibacterial and soothing, especially for irritated skin, great for hard working gardening hands!




Go to Orange and Rose Essential Oil Olive Oil Soap Bar - another olive oil soap recipe especially for acne prone skin care.


Go to Jasmine, Lavender and Patchouli Soap - Romantic and uplifting, a wonderful soap for soothing dry,mature skin.


Go to Jasmine, Geranium and Frankincense Soap - An exotic, uplifting and calming soap, wonderful for women !!

Rosemary Soap - Stimulating for the skin, its properties reputed to
have enabled the Hungarian queen Isabella to ensnare the King of Poland.........no mean feat at 72 !


Go to Sandalwood, Geranium and Orange Soap - the perfect soap for stretch marks, scars and wrinkles.


Go to Lemon and Chamomile Essential Oil Soap - a soap for teenage skin, for acne and spots, to soothe and cleanse.




Go to Sandalwood, Jasmine and Geranium Essential Oil Soap - a soap to clear your mind, unwind and relax with




Go to Rose and Chamomile Essential Oil Soap - a gentle, soothing and calming soap, great for dry mature skin







To make Homemade Laundry soaps - Click on the links below....
Happy Washdays ! :)
Natural House Cleaning Products.
Natural Homemade Liquid Laundry Soap
Homemade dish soap - For dishwashers and hands that do dishes !
Other related links you may enjoy......
Go to the Natural Cleaning Recipes Page
Find out about all the other Uses for Olive Oil
Go to the Sitemap page
Go to Anayennisi-Aromatics Home from How to make homemade soap.
If you have enjoyed this how to make homemade soap page..please share it ...thankyou :)
---
If you have enjoyed this page from Anayennisi Aromatics and you think others will too .... please share it by using any of the social media buttons on the page ..... thankyou very much, it is appreciated  :)
---