Lemon Bar Recipe.
From Anayennisi Aromatics Mediterranean Diet Cookbook collection, a mixture of fantastic favorites !
Lemon Bar Recipe


A truly delicious, zesty and irresitible cake from Anayennisi Aromatics Mediterranean diet cookbook collection :)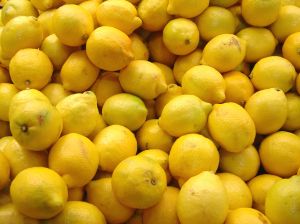 The perfect cake for picnics or afternoon tea.
This recipe was given to me by my friend Jean, who is the most fabulous host and cook, her home is always full of warmth and laughter, wonderful food and enduring memories. This cake is one of my favorites and is welcome at anytime, elevenses with coffee in particular.
Jean lives just around the corner from me, in our little Greek village and I seem to have a knack of knowing when this cake has been pulled out from the oven and appearing at her door !


Totally scrummy :)
A really simple and quick cake mix, that results in the most tasty, light, irrestible cake !


Ingredients for the Cake Mix.
6 oz Self Raising Flour
6 oz Caster Sugar
2 tsp Baking Powder
2 Eggs
3 tbs Granulated Sugar
2 tbs Icing Sugar
Zest and juice of 1 Lemon (you can also add and an Orange if wanted, I actually prefer both in this cake !)
1 buttered and floured loaf tin.
Method for making the cake.
1. Turn oven on to warm to 180c.
2. Combine the self raising flour, caster sugar, eggs and baking powder, whisk together well.
3. Pop mixture into the buttered and floured baking tin and place it into the middle of the oven to cook for 25 minutes.
4. Warm the juice (and orange juice if wanted) juice in a pan with the 3 tbs of granulated sugar, gently bring to the boil, let the mixture reduce gently and then allow to cool.
5. Add the zest when the syrup mixture has cooled a little. Mix the icing sugar with a smidge of hot water, to make the icing.
6.When the cooked cake has cooled a little, skewer the cake all over and gently drizzle the zesty syrup all over the cake, then add a little white icing gently drizzled over the top to finish off.
7. Eat immediately and enjoy !!


---
Go to Anayennisi-Aromatics Home

Go to the Sitemap Page

Go to the Mediterranean Diet Food Page from the Lemon Bar Recipe page .