Basil Pesto Recipe
Cooking with fresh herbs............
Basil Pesto Recipe


This glorious aromatic, pesto recipe is the perfect partner for a plate of fresh pasta - adorned with Pecorino or Parmesan cheese and a twist of black pepper - simple, quick and definitely fulfilling !
Pesto originates from Genoa and the word "pesto" originates from "pestare" which in Italian means to crush or pound, so true to that aim, no blitzing in blenders !
For this recipe handchop the ingredients or use a pestle and mortar, it tastes so much better if it has not been whizzed ! If preferred lightly toast the pine nuts but its not imperative !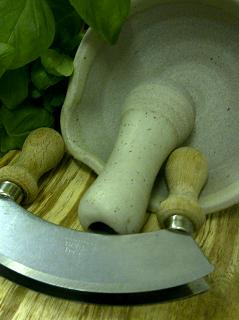 The Basil Pesto Recipe Ingredients.
A really good bunch aromatic leaves (at least 60 - 80 leaves)
2 cloves of garlic
1/2 cup of olive oil
3 tsp of pine nuts
4 tbs Parmesan or Pecorino cheese, grated
Pinch of sea salt and a twist of black pepper.
Chop or crush the leaves, garlic and pine nuts ,a little at a time, slowly adding to the mix, add the salt and pepper and the cheese, slowly, little by little until you have a soft paste. Drizzle in the oil, again slowly, mixing it in until all blended together, thats it..........a little bit of heaven........eat immediately !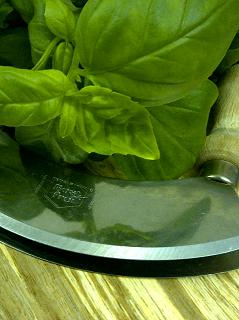 Possible accompaniments other than the obvious ie: fresh pasta ..........are fish, hunks of seeded granary bread, potatoes, soups, chicken, pizza, also it can be added to mayonnaise or salad dressings.
Some people also add a squeeze of lemon at the very end it's up to you !
Variations on the theme ie: substituting basil for another ingredient are listed below wth alternative nuts and cheeses you might like to try !!
Be adventurous and mix it up a little !
Optional ingredients ; Rocket, spinach, black olives, parsley, sun-dried tomatoes, watercress, roasted red peppers, coriander, mint, fennel, artichokes or chives.
Different nuts to try are almonds, walnuts, hazlenuts, pistachios or cashews.
Other cheeses to try are Feta or Ricotta.


---
Go to Basil Essential Oils page.

Go to The Sitemap Page

Go to Anayennisi Aromatics Mediterranean Diet Cookbook Recipes Page

Go to Uses of Olive Oil Page

Go to Anayennisi-Aromatics Home from the Basil Pesto Recipe page